The type of flooring in your home can significantly impact your home's aesthetics, safety, and functionality. Flooring has a lot to offer, from keeping your kids and pets safe to making your home more comfortable and increasing your home value.
Here are the 5 Best Options to Consider
If you're thinking about making a change but aren't sure where to start, here are some of the best flooring options for every room in your home so you can decide what's best for you!
1. Porcelain Tile – Durable, Functional, and Pretty
If you're looking for the best flooring options that are durable, functional, and pretty, then porcelain tile might be the right choice. Porcelain tile is from a denser clay material and is fired at a higher temperature than ceramic tile, making it more resistant to wear and tear. Plus, it comes in various colors and styles to suit any taste. With its low moisture absorption, a porcelain tile is an excellent option for kitchens or bathrooms.
Plus, there are no grout lines to clean! The most common complaint about porcelain tile is how slippery it can get when wet – but with little maintenance and awareness, you can easily avoid the downside. However, high-quality porcelain tiles typically have an anti-slip finish, so read the label before buying for home remodeling if this feature is essential to your home.
2. Laminate Flooring – Looks More Realistic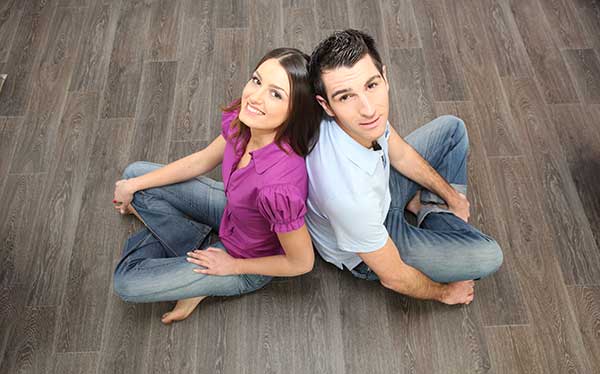 Laminate flooring is one of the most popular types on the market today. And for a good reason – it's attractive, durable, and easy to care for this type of flooring. Laminate flooring has come a long way in recent years, and there are now more options than ever. They've recently undergone significant improvements in terms of style, durability, and ease of maintenance. Laminate flooring is perfect if you have children or pets in your home!
Many laminate flooring finishes mimic natural materials like hardwood and stone so that you can have that high-end look without the high-end price tag. It also has an environmentally friendly edge since laminate comes from recycled materials such as wood pulp, paper, or ground-up rubber tires. Plus, unlike natural wood, if your dog or cat scratches the surface, you don't need to sand it down or refinish it with costly sealant. You can buff out any scratches with a dry cloth and continue using your laminate flooring!
3. Hardwood Flooring– Solid and Comfortable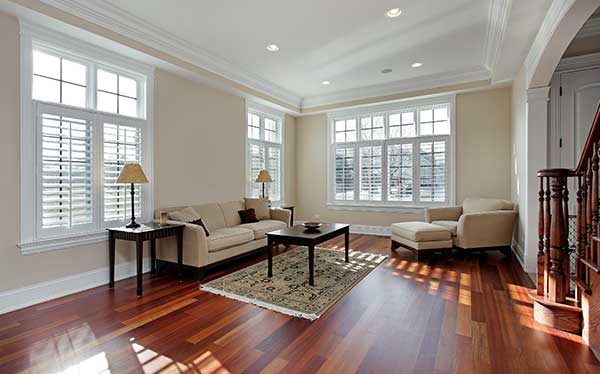 Hardwood is always a great choice if you're looking for a classic and comfortable flooring option for your home remodeling project. Hardwood floors are easy to clean and maintain and add value to your home. There are two types of hardwood floors – solid and engineered. Solid hardwood floors consist of one piece of wood, while engineered hardwoods consist of multiple laminated layers of wood. Engineered hardwoods are usually cheaper than solid hardwoods because they have less grain variation.
Hardwood flooring comes in different varieties, such as oak, walnut, cherry, and pine. The price of hardwood floors varies widely depending on the type of wood. Oak is considerably one of the most durable types of hardwood in use today. A reliable home remodeling expert can give you all the necessary information about each type of wood flooring before choosing a floor for your home.
4. Vinyl Floors – A Wide Selection of Styles and Patterns
Vinyl floors have come a long way in recent years and offer many styles and patterns. They are also durable and easy to care for, making them an excellent option for busy families. They're inexpensive so that you won't be breaking the bank! However, if you want to make a bold statement with your new flooring, look no further than high-end luxury vinyl tiles (LVT).
Luxury vinyl tiles and planks (LVT and LVP) provide an extra layer of protection against bumps and scratches. They're also effortless to maintain since you can sweep them with a broom or vacuum cleaner. You can install LVT floors in any room in your house or office, including bathrooms and kitchens! These durable flooring options come in various colors and styles that suit any budget.
5. Bamboo or Cork Floors – A Sustainable Option
Bamboo flooring is an excellent option to reduce your carbon footprint or support sustainable practices. It is also highly durable and beautiful! Bamboo floors are also durable and easy to clean, making them an excellent option for high-traffic areas. They also come in various colors and styles to suit any home décor. Though bamboo is a type of grass, not a tree, it highly mimics wood grain and comes in various varieties.
You can even find planks with a distressed look that will make your house feel like it's been around for years! However, note that bamboo flooring may be prone to moisture damage, especially for use in coastal areas. As such, you can consider cork flooring, a natural material with a similar feel to hardwood and more resistant to moisture damage. Cork flooring might also have a higher price than other options. Still, it offers a much higher level of sustainability, so it might be worth considering if you find sustainability necessary.
Choosing the right flooring can help keep your home comfortable and stylish. You should also know how much work it will take to maintain your chosen flooring. By looking into each of these flooring types and considering these factors, you can decide which kind of flooring is best for your home. However, contacting a professional in home remodeling could provide valuable insight when determining what type of flooring to put in your home.