At Boardwalk Remodeling, we handle all aspects of the bathroom remodeling project – everything from permits to design to purchasing products to installation.
Why Boardwalk Remodeling?
Boardwalk Remodeling provides exceptional home improvement projects. We offer premium products from the industry's most trusted brands and installation services by professionals.
Professional Service
With Everything Done In-House, You Can Trust Us To Build Your Dream Bathroom!
High Customer Satisfaction
See What Over Hundreds of Customers Have Said About Our Work.
Full Residential Service
One Week Bath has been designing and building beautiful custom.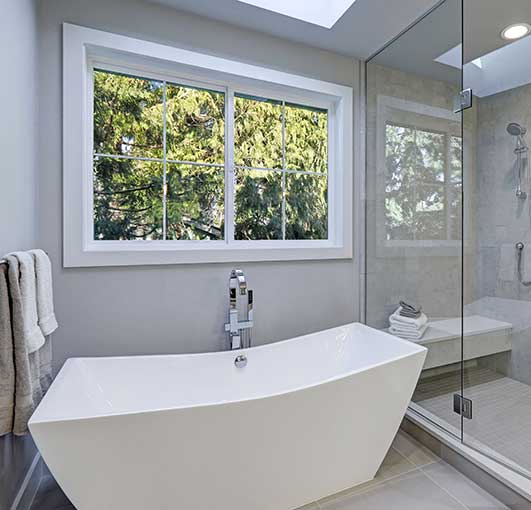 Bathroom Remodeling Experts
Contact us for your free
in-house consultation now!
Let Us Transform Your Bathroom
From the burdens piled up in the offices to the hustle and bustle of the streets, the busy lives call for a feeling of peace and some personal space. And as cliched as it sounds, what can be more peaceful than a simple, chic, and aesthetic bathroom? 
Talking about the world moving towards aesthetics and pleasures, bathroom remodeling has taken a splurge in the market. Gone are the days when people used to care about renovating the complete house but the bathrooms. Remodeling bathrooms has become a norm now.
Bathroom remodeling has always been an underrated discussion, thus, most of us do not have the sense to make it chic and elegant. While the paints of rooms can easily be decided, renovating a bathroom needs craftsmanship and innovative thinking. 
From choosing the best lights to adding high-quality tiles, making an appealing bathroom is not a piece of cake. But not for you anymore. The Boardwalk Remodeling is here to save your day.
Let Us Make Your Ideal Shower a Reality
We understand the constant rise of the new trends, with the intense competition for aesthetics in the market. With mountains of options in the market for every accessory, we know how much a hassle it is to choose the best one.
This is why we have done almost all of the work for you. With our intense research and mind-boggling, the best material, paint, and accessories have already been chosen for our customers.
By looking at our portfolio, you have to select the best from the best. With our extraordinary services, remodeling the bathroom has never been easier. Here is what we promise:
● Best color code for walls
● High-quality tiles
● Best accessories according to the needs.
● Addition of the latest trends with innovations
● Attention to tiny details